Some of Our Research Highlights (Recent)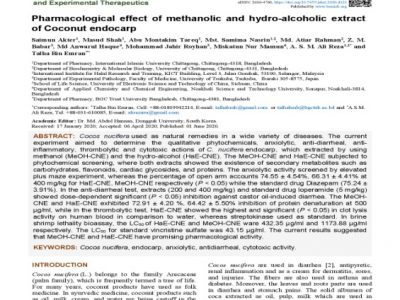 Cocos nucifera used as natural remedies in a wide variety of diseases. The current experiment aimed to determine the qualitative phytochemicals, anxiolytic, anti-diarrheal, antiinflammatory, thrombolytic and cytotoxic actions of C. nucifera endocarp, which extracted by using methanol (MeOH-CNE) and the hydro-alcohol (HaE-CNE).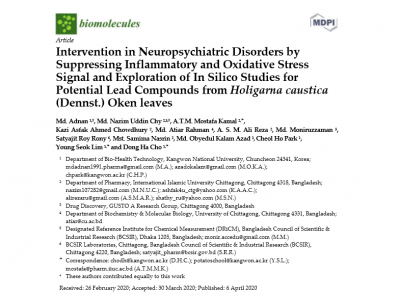 Holigarna caustica (Dennst.), a popular plant used in folk medicine in Bangladesh, is often used by the local folk practitioner to treat a variety of chronic diseases. The present research is an attempt to find out an innovative therapeutic prospect for the management of neuropsychiatric disorders. The methanol extract of H. caustica leaves (MEHC) were utilized on various behavioral tests for assessing anxiolytic, anti-depressant, and anti-inflammatory activities.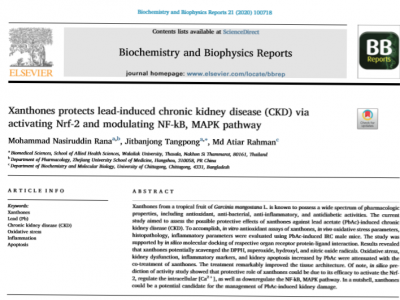 Xanthones from a tropical fruit of Garcinia mangostana L. is known to possess a wide spectrum of pharmacologic properties, including antioxidant, anti-bacterial, anti-inflammatory, and antidiabetic activities. The current study aimed to assess the possible protective effects of xanthones against lead acetate (PbAc)-induced chronic kidney disease (CKD).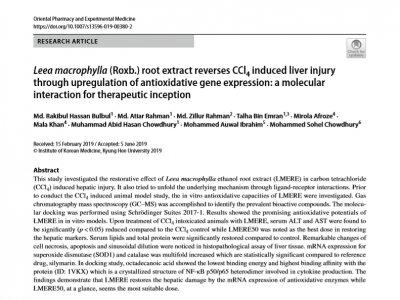 This study investigated the restorative effect of Leea macrophylla ethanol root extract (LMERE) in carbon tetrachloride (CCl4) induced hepatic injury. It also tried to unfold the underlying mechanism through ligand-receptor interactions. Prior to conduct the CCl4 induced animal model study, the in vitro antioxidative capacities of LMERE were investigated.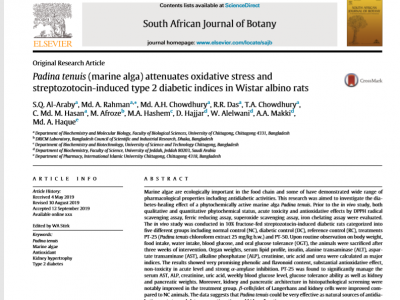 Marine algae are ecologically important in the food chain and some of have demonstrated wide range of pharmacological properties including antidiabetic activities. This research was aimed to investigate the diabetes healing effect of a phytochemically active marine alga Padina tenuis.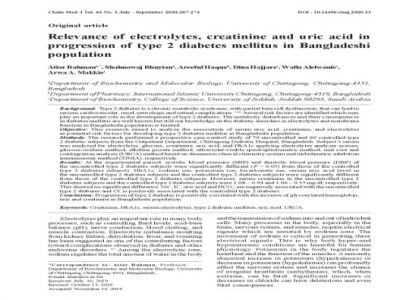 This research aimed to analyze the association of serum uric acid, creatinine, and electrolytes as potential risk factors for developing type 2 diabetes mellitus in Bangladeshi population.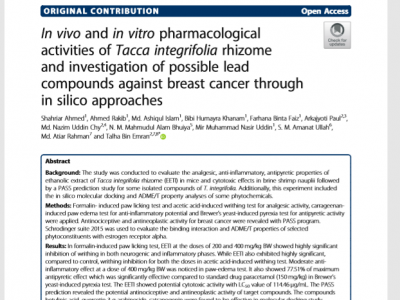 The study was conducted to evaluate the analgesic, anti-inflammatory, antipyretic properties of ethanolic extract of Tacca integrifolia rhizome (EETI) in mice and cytotoxic effects in brine shrimp nauplii followed by a PASS prediction study for some isolated compounds of T. integrifolia.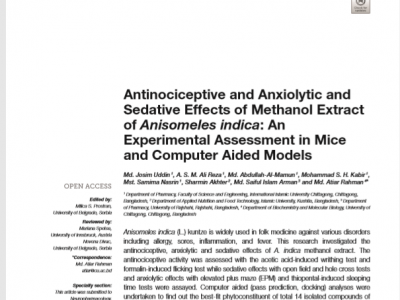 Anisomeles indica (L.) kuntze is widely used in folk medicine against various disorders including allergy, sores, inflammation, and fever. This research investigated the antinociceptive, anxiolytic and sedative effects of A. indica methanol extract.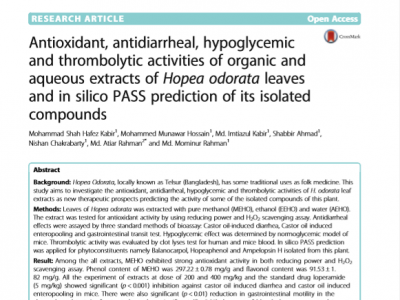 Hopea Odorata, locally known as Telsur (Bangladesh), has some traditional uses as folk medicine. This study aims to investigate the antioxidant, antidiarrheal, hypoglycemic and thrombolytic activities of H. odorata leaf extracts as new therapeutic prospects predicting the activity of some of the isolated compounds of this plant.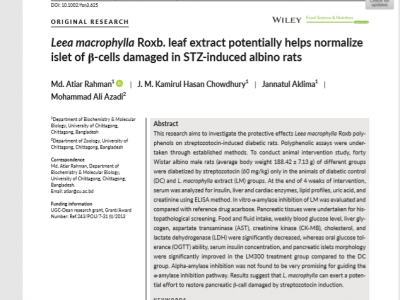 This research aims to investigate the protective effects Leea macrophylla Roxb polyphenols on streptozotocin‐induced diabetic rats. Polyphenolic assays were undertaken through established methods.